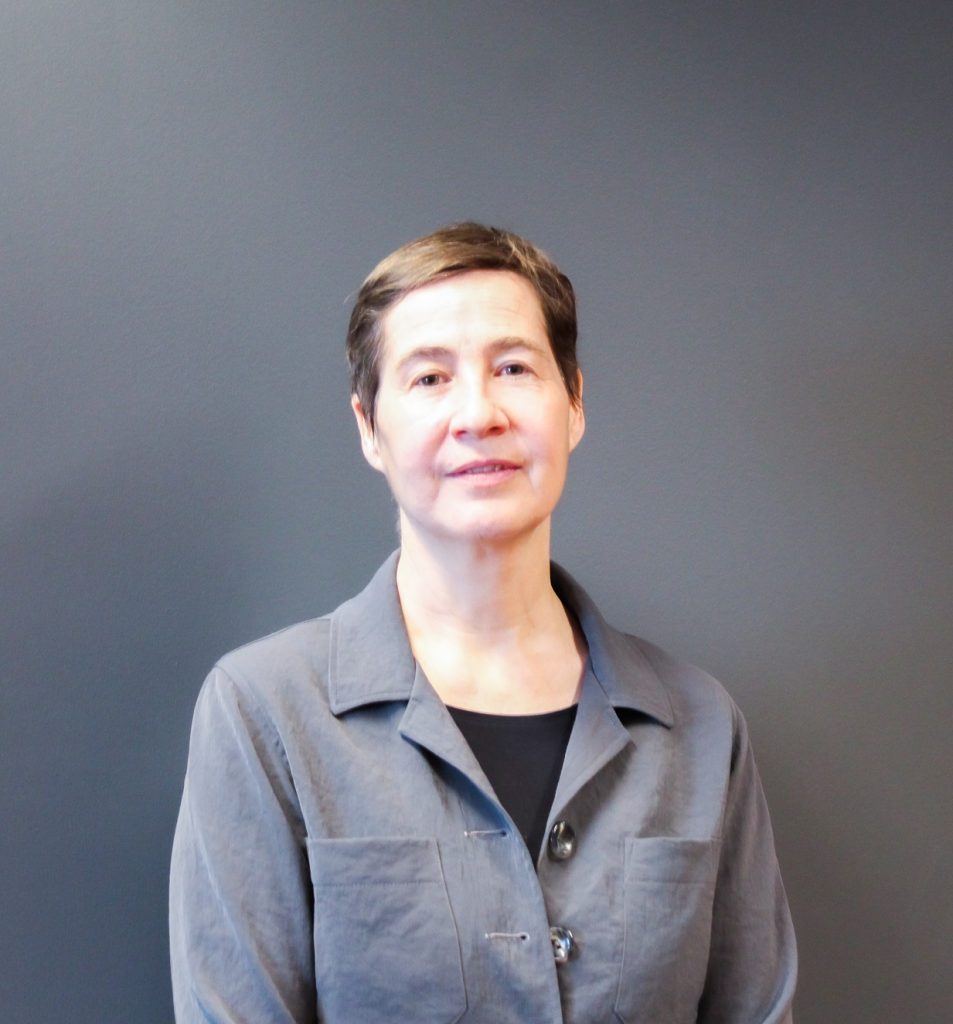 Dr. Fiona Miller is a Professor of Health Policy and holds the Chair in Health Management Strategies in the Institute of Health Policy, Management and Evaluation in the Dalla Lana School of Public Health at the University of Toronto. Fiona's research program is concerned with health technology and innovation policy and the role of health systems in sustainable development. She is particularly interested in the regulatory institutions that condition the adoption of technologies within collectively-financed health systems, such as health sector procurement and health technology assessment. Fiona is the founding Director of the Centre for Sustainable Health Systems at the University of Toronto. 
---
Green Gab: Could you tell us a little bit about who you are?
Fiona Miller: I am a professor of health policy in the Institute of Health Policy, Management and Evaluation (IHPME) which is in The Dalla Lana School of Public Health and I'm the director of a new centre called the Centre for Sustainable Health Systems.
GG: Ok, great! When and why were you initially attracted to the field of sustainability in health care?
FM: I'm a bit of a newbie, in some ways. I've been working actively on it within the Institute for about four years now, speaking to my director and then to the faculty about climate change in particular, the health system's role and responsibility, and the potential for a unit like IHPME to take action. The work that we do, the teaching that we do, and the research that we do is all pretty much focused on the health system. We train professionals: healthcare administrators, quality improvement specialists, and health informaticians. We also train the research workforce that supports the health system: health services research, clinical epidemiology, health policy research and so on. So, an organization like ours – an educational institution like ours – has a role to bring sustainability to our students and to support health systems in a transition. Then, around a year and a half ago, my work on this transitioned from an internal committee that had the function of mobilizing our own constituency to an external facing centre which had the function of supporting practice and policy change, while continuing to support educational and research initiatives. That's the practical work I've been doing.
My own research interests in sustainability go back about six or seven years ago now. My research program is related to health technologies. Now, I do more general environmental sustainability issues in healthcare, but my area of expertise remains health technology policy, particularly around issues of how they are adopted: What are the various ways in which that's controlled, managed, and influences innovation? Work that I was doing started to expose the significant role that health technologies have in terms of the environmental harms of health care. 25 – 35% of healthcare's carbon footprint is in the drugs and devices that are used. But then there are other obvious issues of toxins, particularly from pharmaceuticals and plastics from medical devices. In my research it started to become clear that there was a way to work on issues that were of interest to me personally within my professional program of research and practice.
GG: That's awesome! How does the climate crisis, in your opinion, relate to health care delivery?
FM: Sure. I actually think the US-based organization, Health Care Without Harm, has three useful answers to this question.
First, there is this adaptation issue. The climate crisis is creating shifts in patterns of disease and will continue to do so, as well as creating climate risks – both wildfires as well as sort of extreme weather events. These are increasing and are going to accelerate, so that threatens the capacity of the health system to function, in terms of local operation but also the global supply chain .
The next piece is mitigation. A social institution committed to health should not be part of the problem. It should not be contributing to health harms. So therefore it needs to mitigate the environmental harms of its conduct as much as possible. We shouldn't be trying to heal a patient, on the one hand, and concurrently harming the health of the whole population while we do so.
The third piece, which I think is critically important and sometimes lost sight of, is the leadership piece. That's particularly relevant to those of us in countries, unlike the US, that have a publicly financed health system. Universal health systems are very powerful instruments of social solidarity; they redistribute wealth, allocating service in accordance with need not ability to pay. So universal health care has social justice principles embedded into his being. It's a powerful symbol of Canadian identity; it has been for a very long time. It beats the Mounties, it beats hockey…it is the key symbol representing Canada to people when they say, "What is it that makes you proud to be a Canadian?"
So, healthcare has symbolic importance and it's also the second biggest employer nationally, and is a high priority political issue, receiving almost 40% of provincial budgets. It's a big social force..So when health care is visible in addressing the climate crisis, it can bring a lot of people along with it – its workforce, patients, clients, and their family members. Everybody is touched by the health care system. So, it can play a very powerful leadership role in engaging people where they are, and in helping to create the social transition that we need that is obviously beyond healthcare alone.
GG: Thank you. Is there a sustainability initiative/program that you were involved in or would like to see be implemented within the healthcare system?
FM: One of the exciting flagships, although it has not yet been officially announced, is the collaboration between the Council of Health Sciences (link to: https://www.provost.utoronto.ca/committees/council-of-health-sciences/) in the University of Toronto and the Academic Health Science Network (TAHSN link to: https://www.tahsn.ca/). This collaborative, called the Sustainable Health System Community of Practice, aims to move healthcare towards low carbon care. The centre that I direct, the Centre for Sustainable Health Systems, will be the secretariat for that. We are convening the leadership table and are providing the critical evidence and infrastructure for the hospitals and health science faculties – where there is a lot of interest. We have got a lot of support from the TAHSN CEOs and the Deans. Although there has been a lot of terrific work going on in terms of "greening healthcare", it sometimes comes from environmental organizations from the outside looking in, rather than people with a depth of expertise in healthcare. That is what I think the Centre for Sustainable Healthcare in the UK has really prioritized – making this about clinical care, making this about health system leadership.
GG: And when did you first decide to implement this initiative into action?
FM: We have been working on this for a year to get it moving. It started with my colleague Geoffrey Anderson who is a professor in IHPME. He came to my office one day, sat down, and said, "I have a 15-year-old daughter and she is going to kill me unless I get on the right side of history on this issue. What can I do?" So, we started talking. Geoff moved quickly to get TAHSN on board, so we started those conversations and found a really receptive audience. There are a lot of people labouring on the front lines and in management positions who care deeply about these issues. They are looking for an opportunity to bring their professional lives into alignment. In many ways, it wasn't a hard sell. The time is right.
GG: What are some challenges that you faced when trying to implement this program?
FM: Well COVID has shut it down. We were almost at go in March. COVID-19, I am sure you will hear from many people is both a curse and saviour. Obviously when it hit, it was the only focus and it shut down this initiative and many others, I'm sure. We just went on hold.. But about two months ago, we started the conversation again with folks who have been very involved to see if we could restart, and the CEOs and Deans were very supportive. Now, it will be interesting to see how this plays out. I mentioned the adaptation piece – supply chain resilience. We have seen a real problem with the lack of availability of medical supplies. So that has raised the profile of this issue that is very relevant to climate change. So, COVID-19 has been a challenge but hopefully, it can also be part of the opportunity. We'll see.
GG: And what were some of the factors that led to the success of the program?
FM: The success so far is just getting it off the ground. At IHPME and more broadly at the School of Public Health, we have very strong and deep connections in the health system and so we are able to talk to the CEO table and the Dean's table and people have been willing to listen. Maybe the more important thing is that there is a readiness for this. There are a lot of other people in my generation and younger who are kind of waking up to the need to do something. And we are also seeing a lot of pressure from young people. Actually, one of the things that I have presented to CEOs and Deans is that their trainees are demanding this, a fabulous example of that is ELESH. And it actually matters a lot to people in leadership positions that their staff and trainees care about this, and that the pressure is coming from the learners and the younger generations. That is very, very influential.
GG: What has been the impact of COVID-19 on sustainability initiatives?
FM: I think COVID-19 is a disaster for the whole disposables issue. So we've seen the plastics industry use this as an opportunity to push back against efforts in the US and Canada to restrict single use products: the plastic bags, plastic cutlery, and the plastic coffee cups. The use of disposable medical masks has also exploded. Community masking makes sense but too many people are using disposable surgical masks – which are plastics.
At the same time, the explosion in use of disposable items has attracted public and policy interest – so we may see some very innovative solutions come forward in the next little while: reusable PPE, truly compostable plastics. When problems accelerate, we also get serious about searching for solutions, so I'm really hopeful that good things will come from these challenging times.
GG: Thank you again for joining us on this call and sharing all this information with us. We really appreciate your work.
FM: I am delighted to see you guys doing this.